Authentication Server
To make USB drive installed USB Flash Security++g - ##g be able to unlock by Authentication.
Multiple PCs connected to the same network can use it, when one of the PCs install this software.
[Contents]
Download
USB Flash Security g Authentication Server Ver.1.0.0


usbauthserver_1.0.0.zip(715KB)
Outline
This software is to unlock security by Authentication.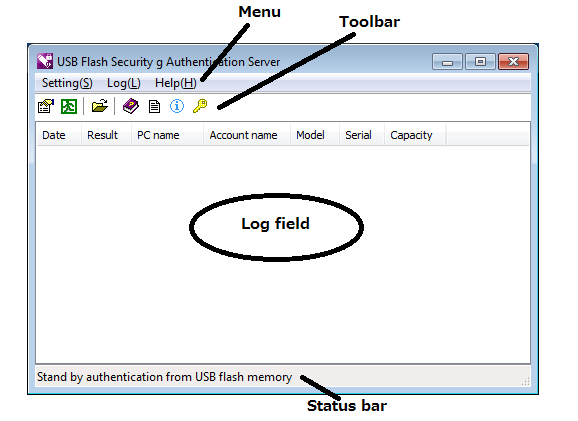 Authentication code
Only the USB drive set the same authentication code as sever can be unlocked.

Save the log
It is possible to save the log of USB drive info. such as authentication request is "permit" or "reject".

No IP address setting necessary
You don't need to set IP address, because when start this software, it will identify the PC in local network automatically. Any PC connected local network can be used to unlock security by server authentication.

Encryption
Information communications between [This software] and [Release tool] will be encrypted automatically.

Password setting
Password can be set to protect the setting not to be confirmed / changed by anyone who doesn't know the password.

Resides in task tray
It is possible to minimize the main screen without displaying in task bar but reside in task tray.

Install
Setup file name is as follow. Depending on the PC requirement ".exe" may be hidden. Run (double- click) the file to start the installation.
UsbAuthServer_Setup.exe

Please follow the instructions in the window to install the software.
When install complete, shortcut will be created in program menu and desktop automatically.
After install the software, you can delete the Setup file.
Uninstall
Please uninstall this software by
XP: [Add or Remove Programs] in [Control Panel]
Windows Vista / 7: [Programs] in [Control Panel]

The file name of the software shown in [Control Panel] is as follow:
USB Flash Security g Authentication Server Ver.v.v.v
(v is version of the software, it will be changed by upgrade.)
System requirements
We have confirmed it works in the following OS.
OS
Windows 2000 SP4 later
Windows XP SP1 later
Windows Vista(32bit/64bit)
Windows 7(32bit/64bit)
Windows Server 2003 SP1 later(32bit/64bit)
Windows Server 2008(32bit/64bit)
USB drive installed [USB Flash Security++g/#g/##g] Ver.4.0.0 later is necessary.
We have confirmed the software works well by administrator account of clear-install Windows.
It doen't need to install .NET Framework.
It is necessary to set the firewall or security software to permit the port (TCP, UDP) which this software is using.
Disclaimers
Please acknowledge being not able to assume all the responsibilities even if a directly or indirect damage is caused by using this software.
License
1 PC needs 1 license. This software can be used without license for 30 days.
The copyright belongs to the author (KASHU SYSTEM DESIGN INC.)

Trial
All functions can be used in trial period.
After trial period, all functions can be used, but license register window will display by starting / closing this software or date of PC changed.
Price
If you purchase the license of [USB Flash Security ++g/#g/##g] and want to use this software, please contact us by E-mail(
licence.en@kashu-sd.co.jp
). We will provide you one license free.
If you want more than 2 licenses, the price of 1 license is $99.99(USD).
If you want more than 5 licenses, we will provide a discount, please contact us by E-mail(
licence.en@kashu-sd.co.jp
).