Outline
"USB Flash Security"security software protecting data in USB Flash Drive by a password.
Add encoding function(AES256) to commercial USB Flash Drive.
Common feature of all editions
[Install security to USB flash drive]
"Release tool" to unlock security will be saved in USB flash drive, so security can be unlocked by any PC without "USB Flash Security".

[Password protect]
After install this software, password is necessary to unlock security and access data in USB flash drive.

[Auto-lock]
Usb flash drive will be locked automatically, when you remove it.

[Automatic encryption]
AES encryption which is recognized by speedy and cipher strength in encryption algorithm has been adopted. Data will be encrypted automatically by writing in USB Flash Drive, and it will be decrypted automatically by reading from USB Flash Drive.

[multilingual localization]
User can change the language of release tool and safely remove tool.
Learn more >>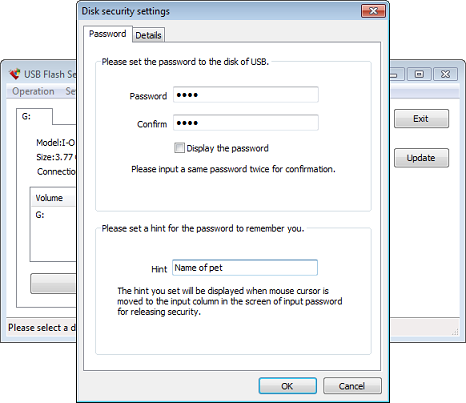 Two areas made by "USB Flash Security"
"USB Flash Security" makes the following two areas in USB flash drive.
Small area about 0.5MB to save "Release tool"

There is no room to save the other file in this small area.
The area to save "release tool" is 0.5M Byte that is 1/2000 of capacity of a 1GB USB Flash Drive.
It can be access without password, when the USB Flash Drive is inserted into PC. Data in this area is not protected, so we call the area "Unprotected Area" in the following sentences.


Area to save password-protected data

This area is all of the USB Flash Drive except the "Unprotected Area".
Password is necessary to access this area, so we call it "Protected Area".
G edition for group user
USB Flash Security G (Group) edition is personal edition add several functions for group user like company, school and so on.
[Powerful administrator function]
Administrator can confirm or change the settings (include user password) of USB Flash Drive installed security. Even if password for unlocking security has been changed, administrator can unlock security by administrator password.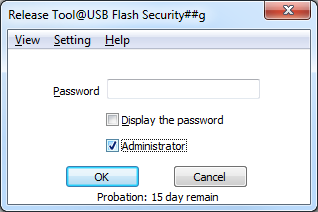 [Continuous install]
If install security to several USB Flash Drive by the same settings, security can be installed by only changing USB Flash Drive connected to PC. If you want to install security to many USB Flash Drive by the same settings, this function will help you to save one trouble.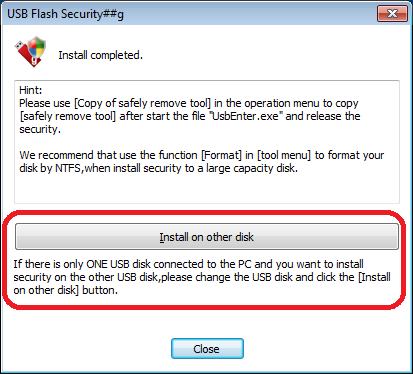 [Save the setting of installation]
Setting of installing security will be saved automatically, it will be the default settings next time. When install security, you don't need to change the setting every time.
[Change the password by release tool]
Password for unlocking security set by administrator can be changed in release tool.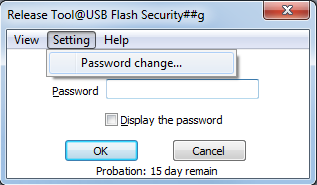 [USB Flash Security Write-Protect service]
When installUSB Flash Write-Protect service on PC, USB Flash Drive without installing security will be write-protect.
[Server authentication] (++g/#g/##g only)
USB Flash Drive installed security can use server authentication function by [++g/#g/##g]. If use authentication function, you can select the combination of server authentication and password. This function can make security can not be unlocked out of company in order to tightening security, or make security can be unlocked without password for convenience. And, log can be saved by authentication server. Situation of utilization can be confirm by authentication server.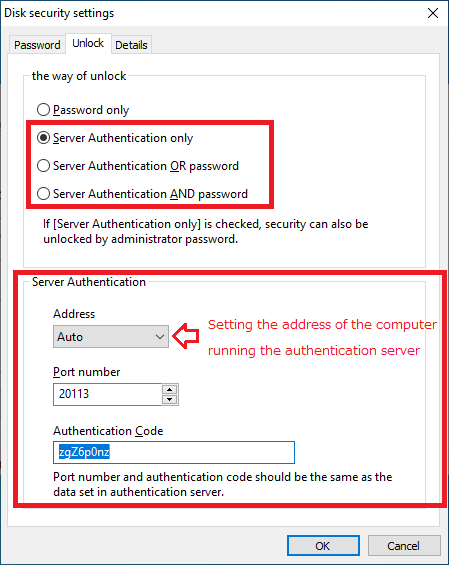 [Limited mode] (Ver.4.1.0 or later)
Limited mode means some functions will be limited in this mode. Limited mode can be used by multiple PC.
For example, security has been installed by the PC in home office, and USB flash drive will be used in branch office. If use limited mode some function can be used in branch office.
Please confrim the details here.